Sullivan's Island South Carolina.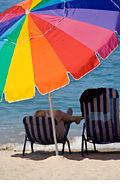 Sullivan's Island is a barrier island that protects the South Carolina coastline. This wild and scenic island is north of Charleston Harbor featuring a quiet lifestyle and a slower pace. If you want to visit pristine coastal beaches free of rampant development, Sullivan's Island is the place to go.
The town has limited homes and lodging due to the development limitations and perpetual easements enacted over the years. This lack of development translates into a small town with open beachfront spaces.
The distinctive Sullivan's Island lighthouse is a tall, rectangular structure that looks more like a modern traffic control tower than the traditional lighthouses you may be accustomed to.
Hurricane Hugo swamped the entire island in 1989 however, like much of the South, Sullivan Island doesn't give up and has rebuilt. Historic charm lives on alongside new beachfront homes.
Not only does the island serve to protect the inland areas during storms, it has protected the Charleston area during times of war. Its rich military history includes Fort Moultrie at the south of the island. During a famous Revolutionary War battle, Americans fortified the area with Palmetto logs. British cannonballs couldn't penetrate the soft wood and merely sank into the structure instead of breaking through. Today, South Carolina is known as the Palmetto State in celebration of this victory.
You won't find a public beach here but you will find plenty of access paths leading to terrific patches of sand to claim as your own for the day. Middle Street is a popular destination for restaurants, shops, and pubs.
Sullivan Island lodging and accommodations are scarce but available if you're willing to do a little research. We'll help you find the perfect place to stay on the island or in neighboring Charleston. If you want to become one of Sullivan Island's two thousand residents, you'll find the Sullivan Island real estate market offers beachfront housing with charm and views.

Our visitors often use misspellings and abbreviations for Charleston,
South Carolina including Charlston, Carlina, SC, So Carolina, So Car. Users
also use Low Country or Lowcountry to describe Charleston.
Those words are included for user convenience.