Charleston County
Visit Charleston County, South Carolina and take a step back in time. You'll find each of the communities here including Charleston, North Charleston, Mt. Pleasant, and the various barrier island communities has its own charm yet shares a common heritage of history, elegance, and heartache.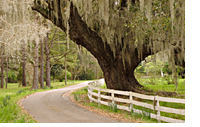 During your Charleston vacation, you'll be able to explore this rich history by touring plantation homes, historic mansions, Civil War forts, museums, gardens, and warships. The Charleston Historic District alone will wow you with the sheer number of historic sites. Because this city was the first to pass preservation ordinances, you'll find hundreds of well-preserved buildings and churches. The entire area is known as a living museum.
Waterfront mansions and canopied streets featuring live oaks draped with Spanish moss, magnolia trees, dogwood trees, and gardenia bushes, create a southern landscape throughout the area with the scent of fresh blossoms mixed with sea breezes filling the air. Get lost in Charleston and experience southern hospitality in an authentic setting.
Championship golf courses and tennis resorts will remind you that you are still in the 21st century. You can get out and enjoy a huge variety of outdoor diversions including golf, tennis, and water sports.
Barrier islands line the South Carolina coastline and protect the inland areas during storms including Kiawah Island, Isle of Palms, Folly Beach, James Island and Sullivan's Island. These islands serve as habitat to sea turtles and wildlife as well as offer vibrant communities of their own. Most are easily accessible by bridges that cross the rivers and waterways onto the islands themselves. Barrier islands usually feature pounding Atlantic waves, stretches of sandy beach, a series of grassy sand dunes, maritime forests with wetlands in the interior sections, and salt or tidal marshes on the lee side.
If you're a Pat Conroy fan, the islands are already imprinted in your mind. Come see them for yourself and appreciate how well Mr. Conroy conveyed the landscape and lifestyle. Visit the Citadel Museum while you're at it and learn the history of this military academy that inspired Conroy's The Lords of Discipline.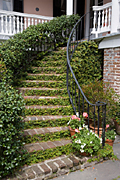 Charleston features a 300-year-old history that must be seen to be appreciated. You'll be surrounded by preserved buildings and museums that tell the tales. Whether you're interested in architecture, Civil War history, American Revolution history, military history, slave history, plantation life, or all of the above, Charleston delivers.
Spending your vacation, wedding, or honeymoon in Charleston is one of the best ways to spend your leisure time. You'll have plenty of fine accommodations and Charleston hotels to choose from, terrific venues for weddings, tours and attractions galore, sandy beaches, fine restaurants, nightlife, and much more.
Relocating to Charleston County is a smart move. This growing area continues to be among the fastest growing areas in the state. Charleston real estate offers housing choices for all tastes and budgets. From modest, entry-level homes for the first-time home buyer to lavish waterfront homes for the more affluent, you're sure to find your dream home in the greater Charleston area.

Our visitors often use misspellings and abbreviations for Charleston,
South Carolina including Charlston, Carlina, SC, So Carolina, So Car. Users
also use Low Country or Lowcountry to describe Charleston.
Those words are included for user convenience.