Charleston South Carolina Weddings.
Planning Your Charleston SC Wedding.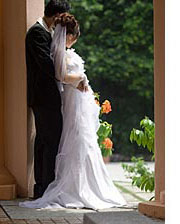 Charleston is an ideal vacation destination. It's also a perfect place to have a romantic wedding. So why not combine both into an exciting wedding and honeymoon vacation where your quests can enjoy a special getaway as well. Think of the value of combining a wedding, honeymoon and vacation experience all at one destination.
Planning for that most memorable wedding day can be fun but challenging and hiring a wedding planner consultant will help relieve the stress. If you prefer to do all the planning yourself, our Charleston Wedding Guide features a wide selection venues and wedding professionals that will make getting married in Charleston a rewarding and memorable experience.
Below you will find connections to Charleston Wedding Consultants, Bridal Fashions, Wedding Dresses, Photographers, Wedding Chapels, Venues, Reception Locations, Music, Entertainment, Custom Wedding Cakes, Decor, Wedding Favors, Invitations, Bridal Flowers, Bouquets, Tuxedo Rentals, Officiants, Carriage Rentals, Dove Releases and all those special touches that will embed memories that will last a lifetime.
Make your Charleston South Carolina wedding experience unique and beautiful. Whether you're planning a large or small quaint wedding, matrimony in Charleston SC can be extravagantly expensive or very affordable. One thing for sure, Charleston is romantic and features a diversity of settings that will capture the hearts of all who visit.


Wedding Cakes by KasardaI specialize in fine cakes for any event. I am only limited by your imagination.
Ashley BakeryWe pride ourselves in the ability to custom design a wedding cake for you. We take your ideas and make them a reality.
Tidewater Wedding Chapel & Carriage HouseWhat could be more memorable and romantic than a wedding and reception in a country chapel near historic downtown Charleston?
Charleston Chapel for Weddings Charleston Chapel for Weddings was designed to recreate the architectural charm of the chapels of ease, circa 1710 to 1815.
Music In Motion Mobile Disc Jockeys Ten years of providing the outstanding entertainment for wedding receptions, reheasals, and bridal showers.
Signature Players A music ensemble comprised of professional musicians residing in the Charleston, South Carolina area.
Keepsakes FloristLet our expert staff translate your visions into a reality with beautiful florals.
Flowers by FrankieOur mission is to help our bridal couple experience a special memorable day through the creative expression of professional floral design.
Patrick Hall PhotographyCharleston based photography group specializing in elegant wedding portraits and wedding photojournalism.
A Beautiful Day PhotographyAlthough we shoot up to 150 weddings a year, we guarantee that we will only book one wedding per day.
JubilationJubilation offers imaginative event planning for all occassions. We work to create a memorable event for you and your guests.
Charleston Event & Bridal Library We offer couples the ease of planning every detail of their wedding in one convenient location.
Charleston Wedding Videographer When I record a wedding, my main goal is to capture the feeling from the day while creating a story of what happened.
Charleston Wedding ConciergeEverything for your wedding comes to you as you sip your favorite beverage as my guest at the private, exclusive Harbour Club.
A Charleston BrideA Charleston Bride is a full service wedding and event coordination firm located in the beautiful and historic Charleston, SC.

Our visitors often use misspellings and abbreviations for Charleston,
South Carolina including Charlston, Carlina, SC, So Carolina, So Car. Users
also use Low Country or Lowcountry to describe Charleston.
Those words are included for user convenience.