Fort Sumter National Monument.
In Charleston Where The Civil War Began.
The Charleston area is crawling with history and is a dream come true for history buffs. During your Charleston South Carolina vacation, a trip to Fort Sumter is an absolute must, after all, this is where the Civil War began.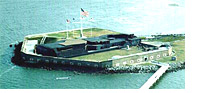 While you may think that Charleston SC would have a Confederate fort to protect the harbor during this time, you might be surprised to learn that Fort Sumter was a Federal fort. The Civil War began when the Confederates opened fire on the fort and took it over after a thirty-four hour battle.
A visit to the ruins of the fort allows you to step into the past. Fort Sumter is located in the middle of Charleston Harbor, accessible only by boat. First, plan a stop at the free Fort Sumter Visitor Education Center where you'll get to explore a variety of visual and interpretive exhibits. Rangers are on hand to answer questions as you tour this state-of-the-art facility. In addition, this is where you'll catch a ferry to the fort.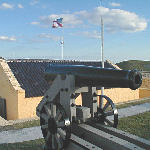 While the visitor center is free, a ferry ride will cost you about $14. Discounts are available for seniors and children. Kids under age six ride for free. Private boats may dock at Fort Sumter for free. You can catch a ferry from either the Fort Sumter Visitor Education Center or from Patriots Point Naval and Maritime Museum. Allow about twenty minutes or so for purchasing tickets and boarding the ferry. The fort is open year-round except for New Year's Day, Thanksgiving, and Christmas Day.
While the boat ride is fairly short, about thirty minutes each way, it can be breezy so bring a jacket. Once on the island, you will be able to explore the ruins. This is a kid-friendly area complete with cannons. In fact, Fort Sumter is home to a premier collection of 19th century seacoast artillery, one of the best found anywhere in the United States.
Today, the fort is a shell of what once was. The ravages of war took their toll and the fort was nearly completely destroyed. In its heyday, the walls of the fort soared nearly fifty feet above the sea at low tide while today they range between about nine and twenty five feet high. Preservation attempts by the Park Service have resulted in the rebuilding of some of the buildings and stabilization of the ruins. Fort Sumter remained an active fort until it was decommissioned in 1947 and handed over to the National Park Service. In fact, the fort was used throughout World War II.
When you wander the grounds of Fort Sumter, you'll be able to go through surviving rooms and get up close and personal with the various artillery onsite.
Fort Sumter has survived wars and hurricanes. Damage from Hurricane Hugo was minimal even though seven to eight feet of sea water inundated the parade grounds. The dock was replaced but structural damage to the fort was minimal.
Photos Compliments of the NPS

Our visitors often use misspellings and abbreviations for Charleston,
South Carolina including Charlston, Carlina, SC, So Carolina, So Car. Users
also use Low Country or Lowcountry to describe Charleston.
Those words are included for user convenience.