Charleston is a flavorful town in more ways than one. In fact, it has its own unique regional cuisine that defines the area with offerings including soul food, shrimp, and barbeque. Low country cuisine is a hearty, flavorful blend of seafood and rice both of which are plentiful in the tidal plains that make up the region.
The Gullah, descendants of former slaves still living on the barrier islands, have contributed to the various dishes offering up African and Caribbean influences, flavors, and names. Among the local favorites you'll find items such as Frogmore Stew, Seafood Muddle, Hoppin' John, Limpin' Susan, Shrimp and Grits, and Low Country Shrimp Boil.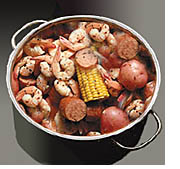 Low Country Shrimp Boil is the epitome of the Charleston's cuisine. Any visitor to the area will notice the sight of shrimp boats off the coast hauling in the day's catch. Low country boil, also known affectionately as Frogmore Stew, features a kettle filled with boiling water, fresh shrimp, corn on the cob, kielbasa sausage, potatoes, Tabasco sauce, black pepper, and the distinctive Old Bay Seasoning. Old Bay Seasoning is a blend of spices with a unique fragrance. Low country boil can contain additional seafood including crawfish and crab. When all of the ingredients are cooked to perfection, the water is drained off and the feast begins.
Oyster roasts are popular social gatherings revolving around oysters. Mounds of oysters are washed and then piled over hot coals. Next, they're covered with a soaking burlap sack which serves to steam the oysters. The oysters are served directly on the table where partygoers dig in and enjoy.
Soul food such as grits, chitlins, and black-eyed peas has made its mark on the region's cuisine as well. In addition, the French influence from a large Huguenot population pairs the abundant seafood offerings with a multitude of French techniques. Charleston's cuisine is similar to New Orleans cuisine but with its own unique style. New Orleans has a rich restaurant culture that has given Louisiana cooking a platform for the masses. Charleston is catching up however with its low country restaurants earning accolades from critics and low country cuisine lovers around the world.
Low Country Boil (Frogmore Stew).
There is no frog in Frogmore Stew also known as low country boil. It is a combination of shrimp, corn-on-the-cob, rice and spicy sausage combined special seasoning that is cooked in a single pot. It can also include crawfish, crab and potatoes.
Hoppin' John.
Charlestonians eat "Hoppin' John" without fail on New Year's Day to start the new year with good luck. Of course it can be found on most low country restaurant's menu all year long as well. Essentially it is rice cooked with black-eyed peas and a few other ingredients to suit one's taste.
Shrimp and Grits.
In Charleston, grits aren't only for breakfast. Charlestonians often top their grits with shrimp and smother-it with a gravy.

Our visitors often use misspellings and abbreviations for Charleston,
South Carolina including Charlston, Carlina, SC, So Carolina, So Car. Users
also use Low Country or Lowcountry to describe Charleston.
Those words are included for user convenience.