If you're dreaming of a storybook wedding, there's no better setting than the gorgeous backdrop of Charleston, South Carolina. Whether your perfect day involves a horse drawn carriage, a sprawling plantation house, or white sand beaches, getting married in Charleston makes your dream come true.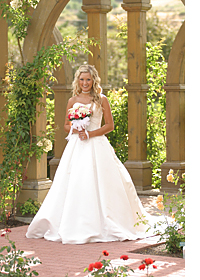 Charleston is a popular destination for weddings and many wedding planners can assist you in choosing the ideal venue. Wedding chapels, churches, and gardens offer beautiful and historic settings for saying your vows while numerous reception facilities including banquet halls, hotels, and country clubs are perfect for the reception. In addition, plantations and mansions are extravagant and unique wedding sites that will have you feeling as if you are the belle of the ball.
With dozens of historic locations to choose from along with plentiful outdoor locales, choosing the site for your Charleston wedding will be a tough decision. The Governor Thomas Bennett House features large rooms filled with period furniture and antiques and beautiful gardens. Alhambra Hall in nearby Mt. Pleasant offers stunning harbor views and is perfect for outdoor weddings and receptions.
White Point Gardens, also known as Battery Park, is a public park where you can get married. This lovely setting is right on the waterfront and offers an intimate location for your Charleston Wedding. Other parks include Hampton Park, Waterfront Park, Angel Oak Park, and the charming Washington Park. Public parks such as these require a permit.
Charleston's barrier islands are also perfect for getting married on the beach. With plenty of coastline, you'll be able to pick the most scenic stretch of sand for your nuptials. Isle of Palms, Folly Beach, and Kiawah Island are all terrific barrier islands suitable for your Charleston beach wedding. Each island has its own personality from tranquil to funky and each has incredible Atlantic views.
If you have your heart set on getting married at one of the Charleston area plantations, consider Middleton Place, Boone Hall Plantation, or Magnolia Plantation. These exquisite plantation homes and gardens are excellent examples of yesterday's elegance and provide a timeless setting that's perfect for romance.
Perhaps a wedding on board a ship is more your style. You can charter boats and get married in Charleston harbor. The Schooner Pride is a tall ship that often hosts weddings and receptions.
Charleston boasts hundreds of unique and memorable locations to hold your wedding and reception making it the perfect wedding destination. You won't want to have your honeymoon elsewhere because the city will capture your heart. See our Charleston Wedding Guide for a list of professional wedding services.

Our visitors often use misspellings and abbreviations for Charleston,
South Carolina including Charlston, Carlina, SC, So Carolina, So Car. Users
also use Low Country or Lowcountry to describe Charleston.
Those words are included for user convenience.