Charleston South Carolina Distance Chart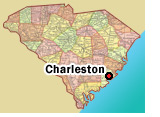 This mileage distance chart
shows the number of miles
from Charleston, South
Carolina to other SC cities,
towns and points of interest.
The guide also shows driving
distance to other USA cities.
Distance From Charleston SC
To Other South Carolina Destinations
Columbia SC
Florence SC
Greenville SC
Myrtle Beach SC
North Charleston SC
Sumter SC

107 Miles
97 Miles
197 Miles
90 Miles
9 Miles
83 Miles

Distance From Charleston SC
To Other Cities and Destinations
Albany Georgia
Atlanta Georgia
Augusta Georgia
Charlotte NC
Greensboro NC
Raleigh NC
Savannah Georgia
Wilmington NC
Winston-Salem NC

258 Miles
265 Miles
125 Miles
173 Miles
228 Miles
223 Miles
85 Miles
155 Miles
230 Miles

Our visitors often use misspellings and abbreviations for Charleston,
South Carolina including Charlston, Carlina, SC, So Carolina, So Car. Users
also use Low Country or Lowcountry to describe Charleston.
Those words are included for user convenience.