A carriage ride through historic Charleston neighborhoods will take you back to another time as you see Victorian and Colonial homes that were built hundreds of years ago and still preserved today.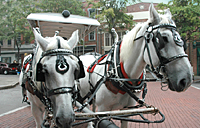 If you are a first-time vacationer to Charleston South Carolina, the best way to enjoy its history is to take a leisurely journey on a horse-drawn carriage through the Historic District of Charleston. The hundreds of historic homes, some of which were built before the American Revolution, are among the most interesting attractions in Charleston SC.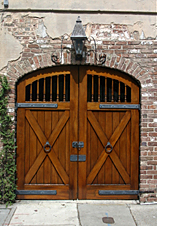 A knowledgeable guide will narrate the entire tour as you meander down tree-lined cobblestone streets that hold centuries of history. There are also guided walking tours, but taking a horse carriage allows you to sit in comfort while absorbing the scenic views. Once you've taken a carriage tour, you can then decide those areas that are most interesting and visit them later at your own pace and convenience. Besides, for romancing couples, a carriage ride is an added touch to a vacation getaway.
Most people think April is the best time to visit Charleston before the hotter and humid summer months arrive. During spring time in April, the colorful gardens of azaleas and Magnolias are typically in blossom.
A typical horse carriage tour takes about an hour and there are many horse carriage tours from which to choose. Each carriage tour company offers a different and unique experience.
Also See:
Charleston Walking Tours
Charleston Ghost Tours
Charleston Sightseeing Tours
Alphonso Brown's Gullah Tour

Our visitors often use misspellings and abbreviations for Charleston,
South Carolina including Charlston, Carlina, SC, So Carolina, So Car. Users
also use Low Country or Lowcountry to describe Charleston.
Those words are included for user convenience.