Charleston Home and Garden Guide.
Home Design, Maintenance, Remodel & Landscape.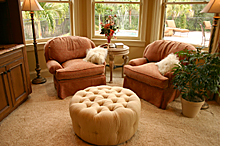 As a Charleston homeowner, whether you're considering a minor home improvement a design makeover or a complete home remodel, the Charleston Home and Garden Guide connects you to a wide variety of expert professional service providers throughout Charleston and the extended Charleston area.
Homeowners, businesses, interior designers and decorators will find our home design guide of particular value when seeking such solutions as floor coverings, wall treatments, patio furniture, custom made furniture, doors, windows, drapes, carpet, stone, floor tile, garage storage cabinets, fences, gates, wrought iron work and a myriad of other home improvement services and products.
Also find landscape designers, architects, outdoor and indoor lighting, handyman services and everything else you'll need to beautify and maintain your home. We continually expand our list of solution providers so check back often when you need quick and reliable sources.

Our visitors often use misspellings and abbreviations for Charleston,
South Carolina including Charlston, Carlina, SC, So Carolina, So Car. Users
also use Low Country or Lowcountry to describe Charleston.
Those words are included for user convenience.