It's funny. Why so many people love to shop when they are on vacation. Particularly the ladies. Well, if you are one of those, head to King Street in downtown Charleston SC. You'll find everything on King Street from really posh, chic and fashionable to the quaint and boutique. There are name brands and things you can only buy in Charleston.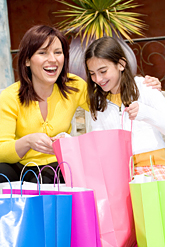 On King Street you can shop for clothes, antiques, books, jewelry, outdoor gear, art and crafts, shoes, souvenirs, furniture, dishware, and an endless array of gifts. And when you get hungry, there are an abundant number of restaurants just waiting to indulge you with southern hospitality.
There are more than thirty antique malls on Charleston's King Street where you'll discover collectibles from the 18th century. Dozens of art galleries show off the local artisans with paintings and sculpture. And then there are the trendy boutiques with one-of-a kind items and high end fashionable attire. And of course the well-known national brands like Saks Fifth Avenue, Victoria Secret, Nicole Miller and Ann Taylor.
There so many things to do in Charleston and so much to see. But save at least an amazing afternoon of world class shopping and dining on King Street. Experience a little, spend a little, live a little and enjoy an exquisite vacation in Charleston, South Carolina where southern charm makes shopping so much fun.
If you haven't made lodging reservations, do it now conveniently online. Choose from Charleston Hotels, Bed and Breakfast Inns or Vacation Rentals.

Our visitors often use misspellings and abbreviations for Charleston,
South Carolina including Charlston, Carlina, SC, So Carolina, So Car. Users
also use Low Country or Lowcountry to describe Charleston.
Those words are included for user convenience.