Charleston South Carolina Restaurants.
Accent On Low Country Cuisine & Fine Dining.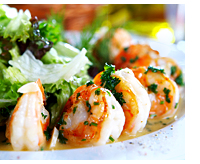 Acclaimed by Southern Living and Gourmet, Charleston's cuisine is among the best in the country. Point your palate to some of the most memorable dining you''ll ever experience. Tracing its history back to the 1600s, Charleston's restaurant scene has been shaped by diverse culinary traditions. Low Country Cuisine, Soul Food and old fashion barbeque has been joined by the contemporary steakhouses, fine seafood restaurants, Italian delicacies, American eclectic and ethnic dining varieties.
Not only will you experience a unique taste in dining, restaurants in the Greater Charleston area provide a trip back into time as many restaurant establishments are located within architecture that has stood for centuries.
Dine alongside some of the greatest views including the Charleston Harbor, the Ashley and Cooper Rivers, lush gardens, stately plantations, marinas and ocean horizons. Choose from upscale or down-home casual. There is a dining experience for every desire and every budget.
Charleston is one of America's favorite vacation destinations. In Charleston, restaurants are a vacation destination unto themselves.
All Restaurants
American & Eclectic
Asian Food
Barbeque Restaurants
Charleston Catering
French Restaurants
Greek Restaurants
Italian Restaurants
Lowcountry Food
Mexican Restaurants
Pizza Restaurants
Seafood Restaurants
Soul Food Restaurants
Charleston Steakhouses
Other Ethnic Restaurants

Our visitors often use misspellings and abbreviations for Charleston,
South Carolina including Charlston, Carlina, SC, So Carolina, So Car. Users
also use Low Country or Lowcountry to describe Charleston.
Those words are included for user convenience.