Drayton Hall Built in 1742.
An Historical Masterpiece.
A Journey Back In Time.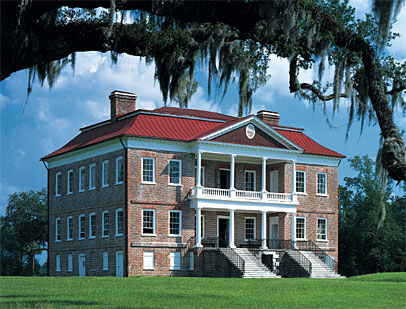 When vacationing to Charleston, Drayton Hall is a must see attraction. This will become a memory for a lifetime. Just imagine an historical journey into the days before the American Revolution. A step back into time of southern mansions, plantations, slavery and the onset of merging cultures that began world's apart.
Drayton Hall is indeed an architectural masterpiece. Preserved and unspoiled since it was built in 1742. You'll experience that era the moment you enter its brick gates. You'll get that feeling as you stroll beneath ancient oak trees draped with Spanish Moss and walk along the edges of the scenic Ashley River in a warm summer breeze. The historical impact of the house that sets on 630 acres will be unforgettable.
Drayton Hall is the finest example of Georgian-Palladian architecture and is the oldest preserved plantation house in America that is open to the public. It is the only pre-American Revolution War plantation house still remaining on Scenic Ashley River Road. All others were destroyed by the Union Army during the Civil War.
The home was built for John Drayton utilizing slave labor on the plantation that grew indigo and rice. Amazingly, seven generations of Drayton heirs preserved the house over centuries in original condition. However, the outbuildings that were originally built have not survived time. An earthquake destroyed the laundry house in 1886 and a hurricane destroyed the kitchen in 1893.
As you tour Drayton Hall you will notice that it has been left unfurnished to highlight the original plaster moldings, ornate hand-carved woodwork, and other architectural design details. It retains its original interiors and has never been wired for electricity or had plumbing. Heating and air conditioning have never been installed. Sadly its architect is unknown, but the work reveals a creative eye of the Renaissance influences of Andrea Palladio.
Expert guides will take you on an interpretive tour of the house with an in depth narration of Drayton Hall's history of plantation life centuries ago. There is also an enlightening Connections Tour that overviews the connection of the slaves on the plantation to their native lands in West Africa. The African-American Cemetery is still in its original state and reveals the resting place for many of the slaves who lived, worked and died at the Drayton Hall Plantation.
Also consider a self-guided tour that leads you along the banks of the Ashley River. Absorb the gorgeous views and take the time to imagine what life may have been like for plantation owners and their slaves during early South Carolina history.
The Drayton Plantation is located about 9 miles northwest of Charleston, South Carolina on Historic Ashley River Road. The road is about 11 miles long is one the most scenic and historical drives in the country. If you're considering a vacation to the Charleston area, be sure to include the Ashley River Road and Drayton Hall in your list of attractions to experience.
Enjoy this photo gallery compliments of Drayton Hall.

More Information:
Drayton Hall Website
3380 Ashley River Road
Charleston, SC 29414
(843) 769-2600
Visit the Drayton Hall website for tour schedules, private events, detailed timelines, group tours, a list of collections, directions and more detail about its preservation plans. After the site is closed to the general public, Drayton Hall is available for a limited number of wedding ceremonies and receptions along with corporate events and other private functions.

Our visitors often use misspellings and abbreviations for Charleston,
South Carolina including Charlston, Carlina, SC, So Carolina, So Car. Users
also use Low Country or Lowcountry to describe Charleston.
Those words are included for user convenience.