Marinas in the Charleston SC Area.
Charleston Boat Docks, Slips & Services.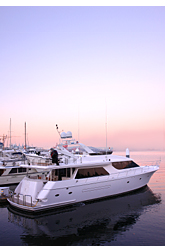 Boating and sailing is a popular past-time for local residents and visitors. The main waterways are the Ashley River which joins the Cooper River in Charleston which forms the Charleston Harbor before discharging into the Atlantic Ocean.
There are many marinas and boat docks in the Charleston area. Some handle both small and large vessels and some may or may not provide river lifts. We suggest that you visit each marina's website for an overview of services provided or call ahead with your questions.
Boat rentals, sightseeing cruises and fishing charters are also options offered by some marinas in the Charleston area. Many provide mechanics, showers, laundromats, stores, restaurants and other amenities.
---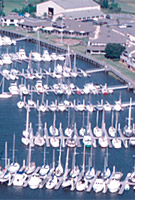 Bohicket Marina on Seabrook Island
1880 Andell Bluff Blvd.
John's Island, SC 29455
843 768-1280
Marina includes 200 Wet Slips and 100 Dry Slips with vessel service up to 200 feet. Its services include 30-50 amp service, a fuel dock, boat rentals, river lift, a ships store, boat cleaning, showers, laundromat, a video store and boat mechanic services. Offers sunset sightseeing and chartered fishing.
---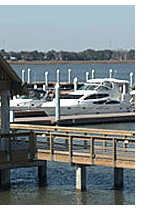 Bristol Marina on Ashley River
3000 Old Bridgeview Lane
Charleston, SC 29403
843 971-1312
Set on the Ashley River, minutes from the Harbor and the Intracoastal Waterway, The Bristol Marina offers facilities as impressive as its location. There are wet slips for boats of less than 70 feet, drive-on docks for boats of 12 to 20 feet, 30 and 50 amp service at every slip, showers and bathrooms.
---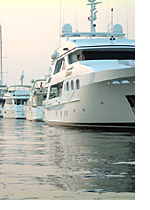 Charleston City Marina
17 Lookwood Drive
Charleston, South Carolina
843 723-5098
Named 2005 National Marina of the Year by Marina Dock Age Magazine, it offers state-of-the-art amenities and facilities. The MegaDock extends 1,530 feet, the longest floating fuel dock in the area. These features, and Historic Downtown Charleston location, make it one of the most popular marinas.
---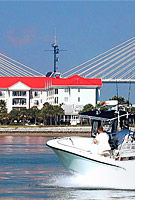 Charleston Harbor Marina
24 Patriots Point Road
Mt. Pleasant, South Carolina
843 284-7062
The largest marina in the state of South Carolina with 459 slips. It holds the record for the largest Blue Marlin caught in SC at over 881 pounds. Our 17,000 linear feet of floating dock space is situated directly in Charleston Harbor with breathtaking views of Fort Sumter and the historic skyline of Charleston.
---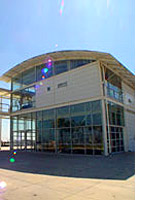 Charleston Maritime Center
10 Wharfside Street
Charleston, South Carolina
843 853-3625
The Center was completed in October 1997 to bring the community in touch with Charleston's rich maritime history. It has both a deep-water, full-service marina and premiere special events facilities. We can accommodate boats up to 180' without the restriction of overpasses or bridges.
---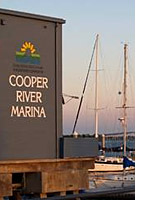 Cooper River Marina
1010 Juneau Street
North Charleston, SC 29405
843 554-0790
Conveniently located two miles north of the Arthur Ravenel, Jr. Bridge and 15 minutes from beautiful and historic downtown Charleston, SC, the Cooper River Marina is a great facility for virtually all recreational and transient boaters. Stop in and let us show you some lowcountry hospitality.
---
Daniel Island Marina
669 Marina Drive
Daniel Island, South Carolina
843 884-1000
We are a full-service marina facility that provides a variety of services for boats in the Charleston area. Daniel Island Marina is a sheltered marina with the security of a 375 unit drystack storage unit, as well as several wetslips for larger boats. Located 1/4 mile from I-526, on Clouter Creek.
---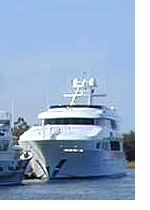 Isle of Palms Marina
50 41st Avnue
Isle of Palms, SC
843 886-0209
Located on the east side of the Intracoastal Waterway, northeast of Charleston. The minimum depth of water in the channel is reported to be nine feet and the minimum depth in the basin is nine feet as well. The marina has new floating docks with rubber protection guards.
---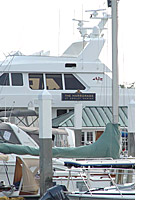 The Harborage at Ashley Marina
33 Lockwood Drive
Charleston, SC 29401
843 722-1996
This is a large, well managed marina that is capable of accommodating vessels up to 150 feet in length. The marina is made-up of approximately 230 newly renovated wet slips and is located in historic, downtown, Charleston. Courtesy shuttle available to downtown Charleston.
---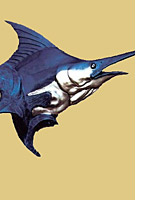 Tolers Cove Marina
1610 Ben Sawyer Blvd.
Mt. Pleasant, SC
843 881-0656
The Premier South Carolina Marina based half way between Mt. Pleasant and Sullivan's Island at the Ben Sawyer Bridge. We serve up Offshore Charters for Sailfish, Tuna, Dolphin, Wahoo, Grouper, Snapper, Marlin, King Mackerel, Barracuda, Amberjack, Kings, Bluefish, Seabass, Bonito, and Shark.
---
Buzzard's Roost Marina
2408 Maybank Hwy
Charleston, South Carolina
843 559-1526
---
Dolphin Cove Marina
2079 Austin Avenue
Mt. Pleasant, South Carolina
843 744-2562
---
Mariner's Cay Marina
3-A Mariners Cay Drive
Folly Beach, SC
843 588-2091
---
Ripley Light Marina Store
56 Ashley Pointe,
Charleston, SC
843 766-2100
---
Shem Creek Marina
526 Mill Street
Mt. Pleasant, SC
843 884-3211
---
Stono Marina
2409 Maybank Hwy
Charleston, SC
843 559-2307
---
Helpful links.
Charleston Harbor Safety
Annual Charleston Boat Show
Charleston Boat Club
Charleston Fishing Reports



Our visitors often use misspellings and abbreviations for Charleston,
South Carolina including Charlston, Carlina, SC, So Carolina, So Car. Users
also use Low Country or Lowcountry to describe Charleston.
Those words are included for user convenience.